Income to Wealth Blueprint
Our Income to Wealth Blueprint is designed to inform you and help you manage one of the most important phases of your wealth.
Our clients often provide feedback that our processes and products allow them to feel organized for the first time, finally understand the meaning of their net worth, and have the whole picture of their finances, and this is particularly true for the Income to Wealth Blueprint process.
Many clients say that it's the first time they've ever experienced a view of their overall financial foundation and what that means for them, and that they finally understand the importance of integrating and aligning their assets and all other financial elements into a macro perspective and strategy.
Income to Wealth Blueprint
The Process
Exploration of your vision and objectives
At our first meeting, we get to know each other and go over your financial position, desires for the future, objectives, and concerns. We review all elements of your finances: protection, retirement assets, education, tax, cash flow, debt, and your legacy plan.
Portfolio Review
& Verbal Commitment
Complete analysis of your strategy
In our next meeting, we review the information and provide an analysis with feedback on your protection, saving, and growth objectives, including a portfolio risk and costs analysis, in which we may reveal inefficiencies. At this point we determine if we are a fit and commit to moving forward.
Reviewing &
Implementing the Plan
The third meeting is where we review your Income to Wealth Blueprint and implement ideas and strategies to prioritize focus points and redirect inefficiencies. This also involves management of cash flow and debt as part of the process for your tax and legacy plans. Client agreements are signed to initiate the transfer process.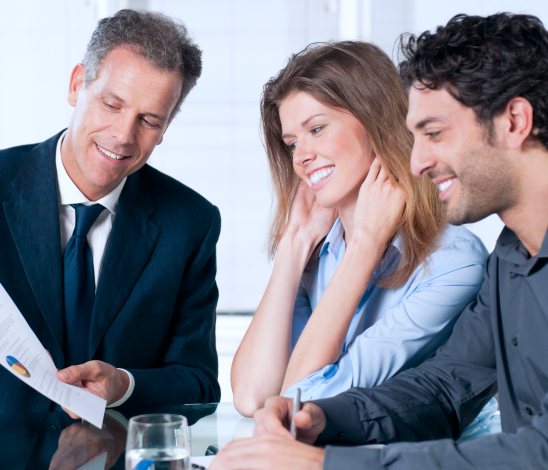 Relationship &
Expectation Management
In our fourth meeting we reiterate and review from a wholistic perspective. This meeting allows us to further implement advanced strategies and establish a review process for moving forward in our relationship.
Download a PDF for
More on Our Process

Every step of the way
Schedule a meeting or register to attend one of our events to learn more about any of our financial planning services